Step One: Getting Started with Amazon Advertising
Advertising on Amazon can help you reach more customers, increase sales, and grow your brand audience. You can access our advertising products by logging in to Seller Central.
But first, prepare yourself for success by making sure your business is ready, learning about eligibility requirements, and being informed about your advertising options.
Sponsored Products
Sponsored Products let you promote individual product listings to shoppers as they are browsing and searching for items to buy.
Sponsored Products ads are targeted to keywords and appear above and within search results and on product detail pages, across desktop and mobile. You pay only when your ad is clicked, and you choose how much you are willing to bid for a click. You also set an average daily budget to control your campaign spend.
To advertise with Sponsored Products, you must:
Have an active professional seller account.
Be able to ship to all US addresses.
Have products in one or more of the eligible categories.
Your products must also be eligible for the Buy Box. When you create a Sponsored Products ad for a product listing, that listing must be winning the Buy Box for your ad to display.
Headline Search Ads
If you meet the seller requirements for Sponsored Products and are also enrolled in the Amazon Brand Registry, you are eligible to use Headline Search Ads. These ads help drive brand awareness by featuring your brand logo alongside three products. Headline Search Ads appear among search results and direct shoppers to a landing page that features a selection of your products or an individual product's detail page, such as your Amazon Store.
Just like Sponsored Products, these ads target keywords, and you're charged when your ad is clicked. In addition to an average daily budget, you have the option of setting an overall campaign budget.
Amazon Stores
Sellers enrolled in the Brand Registry can also create an Amazon Store, a free, customized multipage experience that showcases your brand and product catalog.
You can drive shoppers to your Store with Headline Search Ads or promote it through marketing activities off Amazon.com.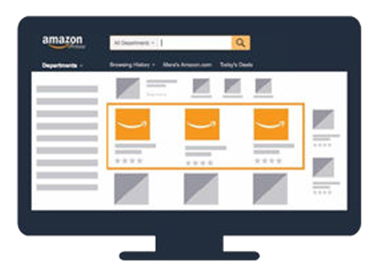 We recommend that new advertisers start with Sponsored Products, but the strongest advertising strategy includes a mix of ad types. Our advertising solutions let you reach and engage shoppers at every stage of their journey—from awareness to purchase and beyond. Take advantage of them all to maximize your performance.
Drive sales with Sponsored Products, putting your products in front of qualified shoppers.
Boost brand and product awareness with Headline Search Ads.
Create a unique, immersive shopping experience with Amazon Stores, inspiring customer loyalty.
Step Two: Amazon Paid Ads Campaign
We cannot run PPC sponsored ads until we are eligible for Amazon "buy box".
To get buy box, your products should have 5-star feedbacks. You should not have order cancellations from your side or delayed shipping. No authentication issues or return dissatisfaction. It is observed in your last 2 months in operations. New accounts or products do not get buy box soon. So, your products are not eligible for ads.